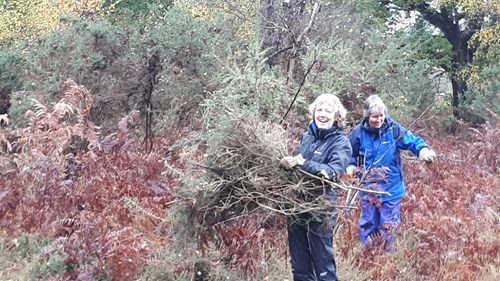 Calling all heathland habitat helpers!
Added at 18:53 on 08 September 2023
The Surrey Heathland Partnership conservation crew is coming back to Pirbright this autumn.
We have lots more dates on offer this coming season for local people to get involved with enjoyable countryside volunteering, to help restore and maintain the rare heathland habitat right on your doorstep.
Why not come and give it a try? The more the merrier please!
We will be clearing invasive scrub on scheduled days in October and November and this task is ideal for anyone new to conservation volunteering:
Weds 29 November at

Bullswater Common, Bullswater Common Road, Pirbright GU24 0LZ
Our team will be on site from 10am to 3pm and you can join in for a full day or just the morning if preferred.
Please wear old clothes, stout footwear and bring your own lunch/drink. We will provide tools, gloves, instruction, insurance and tea/coffee/biscuits.
Please see our Surrey Heathland Partnership Volunteer Task Programme Oct-Dec 2023 for full details.
Please email heathlandproject@surreycc.gov.uk to let us know in advance that you would like to volunteer and for further information.
Please also see our website: www.surreycc.gov.uk/surreycountrysidepartnerships.
Please note that this type of conservation task is aimed at over 16s.
We look forward to welcoming you.
Please click here for more infomation.