Pirbright and its Wildlife

Local heathland
Let me introduce myself…I'm Sarah Bunce and I've lived on Bullswater Common Road in Pirbright for four and half years. I'm lucky enough to be involved with local nature conservation, through my work with the Thames Basin Heaths Partnership. You might have seen our burgundy-clad wardens out on the heaths? We're working in partnership with the local councils, the Ministry of Defence, Surrey Wildlife Trust and the Surrey Heathland Project to conserve heathland wildlife.
You might not think of Pirbright as a hotspot for rare wildlife, but it really is! By a fluke of nature we have the perfect geology and climate for heathland, a very special wildlife habitat. So special that in 2005 our heaths became part of the Thames Basin Heaths Special Protection Area. It includes the Pirbright heaths at Bullswater Common, Pirbright Common and Brookwood Heath, and also nearby Sheet's Heath, Whitmoor Common and Ash Ranges.
Much of the magic happens at twilight. You could walk on the heaths everyday of your life and not see my favourite bird, the nightjar. But visit on a summer evening at dusk, and you'll hear the strange, mechanical churring of the males, and maybe even catch a mesmerising glimpse of a bird in flight. Astoundingly, they come all the way from Africa to nest here on our heaths. They nest right on the ground, amongst the heather and gorse.
You might think that nesting on the ground would lead to a precarious existence, but these birds have been living and breeding alongside us for centuries. Only in recent years has their vulnerability become an issue.
Everyone can help
It's easy to help and simple things can make a huge difference. When you're out on the heaths, please keep to main paths and keep your dog on the path and out of vegetation.
Help prevent fires by following the code "No fires or BBQs, ensure cigarettes are out and take all litter home".
Heath Week
Saturday 24th to Friday 30th July 2021!
Join us in celebrating a precious wilderness that's home to rare silver-studded blue and grayling butterflies, a dazzling collection of dragonflies and all six species of native reptiles. Discover a world of nocturnal birds, carnivorous plants, super-fast beetles and so much more.
Come and meet the folk that fight the fires! This year we're teaming up with the Fire & Rescue Services. They'll be here with fire engines and unimogs to let kids have a seat in the cab and play at being a firefighter! Come along and find out how we can all help to make the countryside a safer place.
There'll be lots of opportunities to meet wildlife too, with nightjar walks, butterfly safaris and close encounters with reptiles. It's so true that you don't have to go abroad to find rare and amazing wildlife, fascinating history and beautiful landscapes. They're right here on our doorstep. We love sharing it all with you, it's the highlight of our year, and we hope you enjoy it as much as we do!
Please join in by coming along and by spreading the word.
Thames Basin Heaths Partnership
Full programme at www.tbhpartnership.org.uk/heath-week/
Here's a taster of what's on offer…
Zoe's Sensory Scavenger Hunt – Sunday 25th July 2021 – 11am to 2pm – Lightwater Country Park, The Avenue, Lightwater, Surrey GU18 5RG
Heath Week Herbivores – Tuesday 27th July 2021 – 11am to 2pm – Whitmoor Common, Salt Box Road Car Park, Guildford, Surrey GU3 3LH
Heathland's Smaller Creatures (A Zoom Talk) – Wednesday 28th July 2021 – 7pm – 9pm.
An Insect Walk on Horsell Common – Thursday 29th July 2021 – 2pm – 4pm – Horsell Common, Sandy Track Car Park, Horsell, Surrey GU21 4BZ
Butterflies & Other Things With Wings – Thursday 29th July 2021 – 10am to 3pm – Chobham Common, Staple Hill Car Park, Chobham, Surrey GU24 8TU
Wildfire Roadshow – Thursday 29th July 2021 – 11am to 2pm – Chobham Common, Roundabout Car Park, Chobham, Surrey GU24 8TL
Reptile Roadshow – Friday 30th July 2021 – 11am to 3pm – Ockham Common, Boldermere Car Park on Old Lane, Ockham, Surrey KT11 1NA
Sarah Bunce
Communications Officer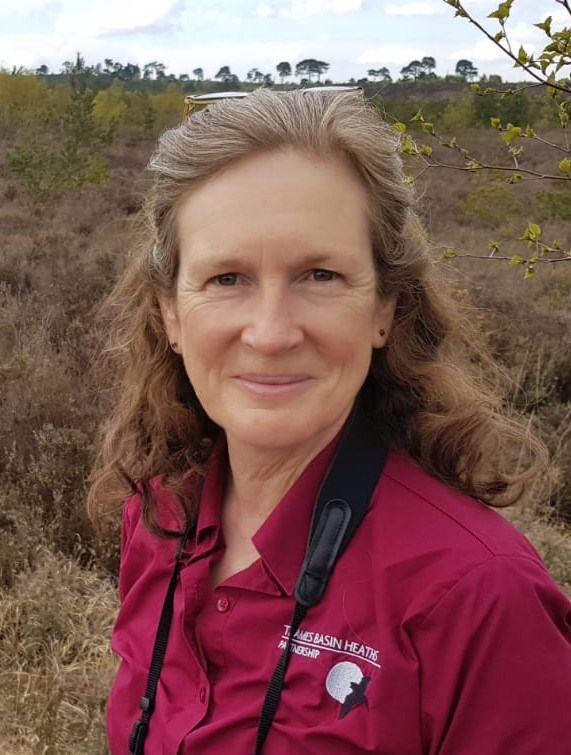 Thames Basin Heaths Partnership
Heathland House, Heather Farm, Woking GU21 4XY
www.tbhpartnership.org.uk Facebook Twitter Instagram