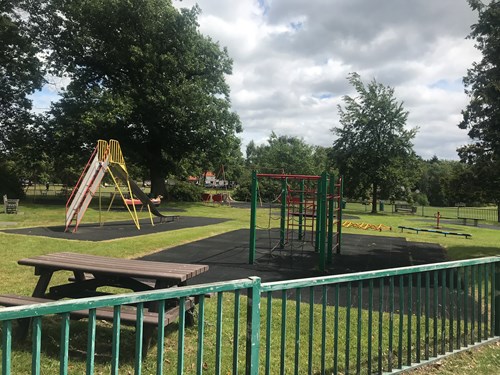 Pirbright Playground remains Open throughout 3rd Lockdown
Helen Myers
03 January 2021 16:40
Pirbright Playground remains open however, families are asked to 'Play Safe' and follow the Council's guidelines based on the government's Coronavirus (Covid-19) guidance.

Each area has signs explaining the special 'Play Safe' guidelines. Made by our creative GBC Parks Team, the acrostic is easy to remember and promotes social distancing and hygiene standards. We ask all visitors to bring their own hand sanitiser and antibacterial wipes, and to wash their hands before and after using the play area or outdoor gym. The Parish Council does not have the resources to disinfect equipment.

The Play Safe guidelines are:

Play two metres away from others not in your household/bubble
Leave no germs, wash your hands before and after use
Always clean equipment before use
Young children to be supervised carefully to maintain hygiene

Suggested maximum time here is 30 minutes
And one household/bubble for each item of play equipment
Family members, only one with each child please
End your visit if the play area is busy, or becomes busy, come back another time

Residents should not use any play area if they have Coronavirus (Covid-19) symptoms or have been in contact with anybody who has. Please ensure those with a disability are given priority. Adults should ensure children don't put their mouths on equipment, or their hands in their mouth. Please don't eat food in the play area and please put litter in the bin or even better, take it home!
Thank you ! and enjoy the Playground.